About us_ENG
Lena en Roberto of Villa Verdicchio
For us, holidays are the ultimate feeling of freedom, but also an inspiring experience.
We would like to inspire others to travel as we have always done: Always looking for a diverse, gastronomic destination where we can discover nature and culture and where we can live all experiences with a sense of beauty.
Together, we have travelled a lot and so we have already seen beautiful parts of the world. Among others, we visited South Africa, Thailand, India, USA, Cuba, Malaysia, Mexico, Nepal and Borneo, Iceland and quite a few countries in Europe. We were also lucky enough to take a long 4-month trip through China, Vietnam, Cambodia, Australia and New Zealand. Always looking for beautiful, new experiences, adventure and, above all, good food & drink.
On our trips, WINE was always written in capital letters. Because, if there was a wine region in the country in question, it obviously had to be visited.
We had great wine experiences in New Zealand, Australia, California and South Africa, and closer to home, in France and Germany. But at the top of the list is of course Italy, where all our desires come together. A wonderful gastronomic wine country, with beautiful nature, a rich cultural past and a pleasant climate.
When we had discovered the well-known wine regions such as Tuscany, Piedmont, Veneto and Sicily, among others, a friend told us about Le Marche. A region we did not yet know. The destination of our next wine trip was known! That it would also be our new home, we didn't know at that moment….
Outside of our travels, we also look for the finer things in life and everything that makes life enjoyable for us. This can range from good food & drink over beautiful interior design pieces to music, film, design, architecture, wellness and enjoying the company of like-minded people.
Because of our then job in the interior design industry, we came into contact with high-end Italian and Scandinavian furniture brands and so our love for beautifully designed interiors grew.
After more than 10 years of working together in the design industry, we decided to combine our experience in Italian interior design and our feeling for hospitality and gastronomy and take a different, Italian approach. Welcoming and pampering guests with good food and drinks in a beautiful and casual setting is something that comes naturally to us.
Because we love adventure and enjoy working together, our new path led us to our favourite wine country, Italy. Here we discovered Le Marche as a still relatively unknown region, but one that is so truly and authentically Italian that we had no choice but to settle here.
And so Villa Verdicchio was born….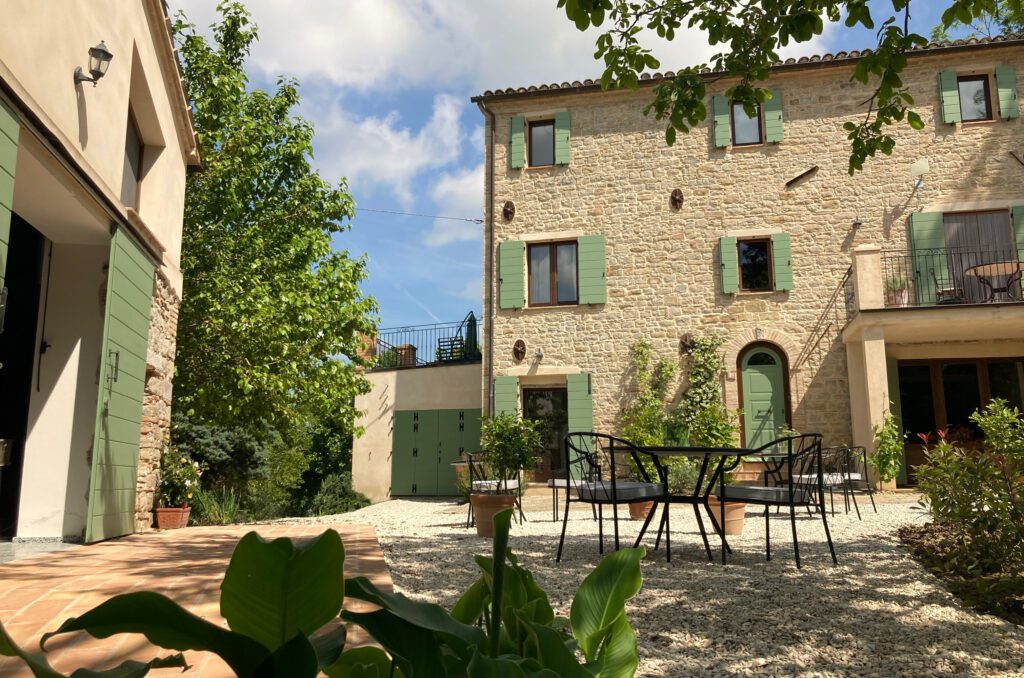 Villa Verdicchio, a name with a beautiful alliteration that perfectly suits our home on the Verdicchio vineyards in the capital of the Verdicchio dei Castelli di Jesi wine region, Cupramontana.
We knew immediately when we first walked around here that this was going to be our B&B for wine lovers.
A beautiful farmhouse and winery, located on the vineyards and with a beautiful garden with panoramic sunsets over the mountains and an olive grove, where we could create lovely spots for our guests and ourselves.
Making wine ourselves is not our ambition, but informing guests about the wine region and the best wineries certainly is!
We transformed the barn where the wine used to ferment in large steel barrels into a cosy breakfast room with kitchen (also for guests). We made two nice wine presentations: one introducing all producers from Cupramontana and one showing cantinas from the other Marchegian wine regions Offida, Morro d'Alba, Matelica and Conero.
With an overview map of these wine regions and a map of all the Castelli di Jesi, we would like to guide our guests through the Marchegian wine landscape.
Thus, in Cupramontana we have created our unique B&B for wine lovers that would make us very happy as (wine) travellers ourselves.
Our B&B is the perfect base to discover the best wineries, relax and experience beauty in Le Marche. We are happy to give you our secret tips of the region. So that you can confidently plan your next wine trip in Italy, right here in Cupramontana.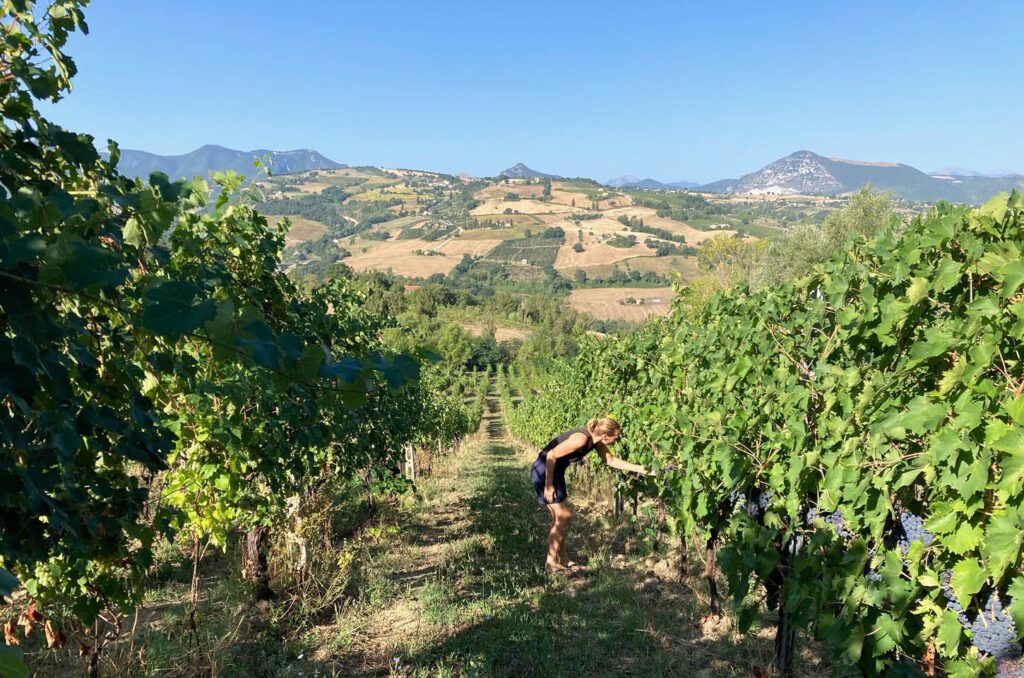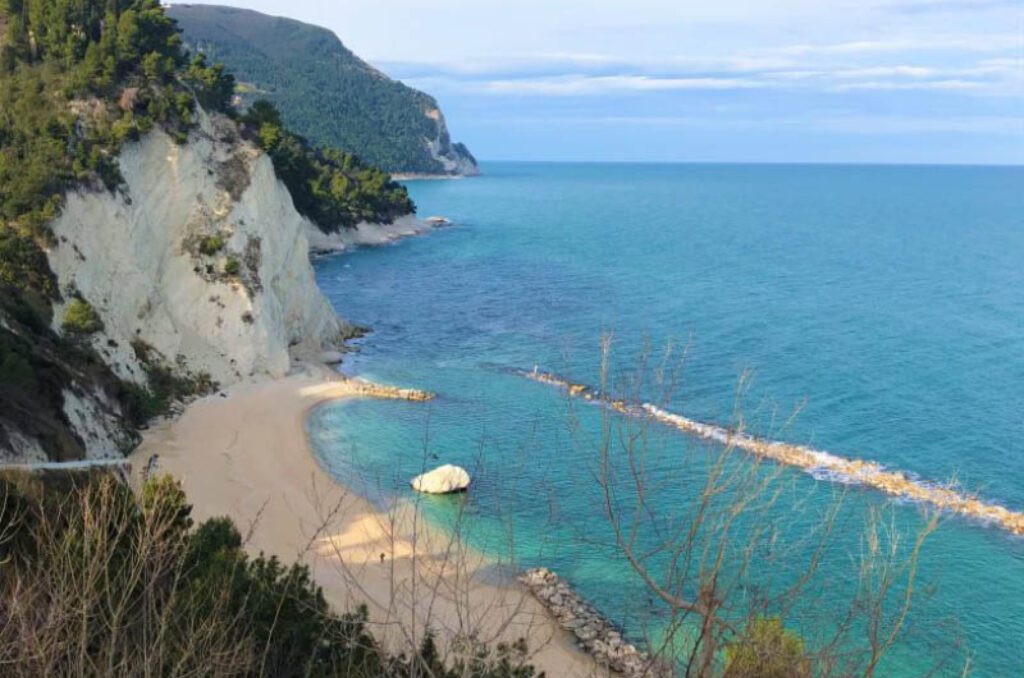 Le Marche is situated between Monte e Mare (between mountains and sea) and here you will find everything that makes the heart of an epicurean and Burgundian beat faster: vineyards, delicious authentic cuisine in simple restaurants but also in Michelin-starred restaurants, beautiful hilly landscapes, azure sea and ancient villages. Moreover, Le Marche is not yet overrun by mass tourism and prices are still affordable.
Because Le Marche is relatively small (as big as 1/3 of Belgium), distances are short and you can be both in the mountains and by the sea in one day.
Villa Verdicchio is in the middle of the Verdicchio wine region. The other wine regions such as Matelica, Conero, Morro d'Alba and Offida are all close by. With more than 700 wineries, there is plenty to discover. Cultural cities such as Assisi, Urbino, Perugia, Ascoli Piceno and Loreto are also located around Villa Verdicchio and can be reached within about an hour.
With our tips, you will discover the most beautiful places during your wine trip to Le Marche.
COME AND ENJOY YOURSELF AT VILLA VERDICCHIO