Wine Tour in Italy
DISCOVER WINE REGION Le Marche
You are going to make the ideal wine trip in Italy with our best wine travel tips!
In the past, making the most beautiful wine trip was always quite a challenge for us too.
First of all, we were always looking for a combination of wine, gastronomy, culture and beautiful nature.  In addition, we always wanted to discover something new in beautiful surroundings and finally, it could be a bit adventurous. 
Oh yes, and preferably good weather too.
Recognisable for you?
Are you also a wine lover looking for new destinations and experiences? Then find our best tips in our free wine travel guide Le Marche
We ourselves have had fine wine experiences in New Zealand, Australia, California and South Africa. In addition, closer to home, in France and Germany. But top of the list is of course Italy, our favourite wine country.
Once we had discovered the well-known wine regions such as Tuscany, Piedmont, Veneto and Sicily, among others, it was time for something new. In wine region Le Marche, we found all the ingredients we find important in a wine trip.
Therefore, from our experiences here in Cupramontana, we have created a unique travel guide for wine lovers that would make us very happy as (wine) travellers ourselves. 
This guide is your perfect guide to discover the best wineries, relaxed enjoyment and beauty in Le Marche. We are happy to give you our secret tips of the region. So that you can confidently plan your next wine trip in Italy right here in Cupramontana.
Happy reading!
Lena e Roberto, wine lovers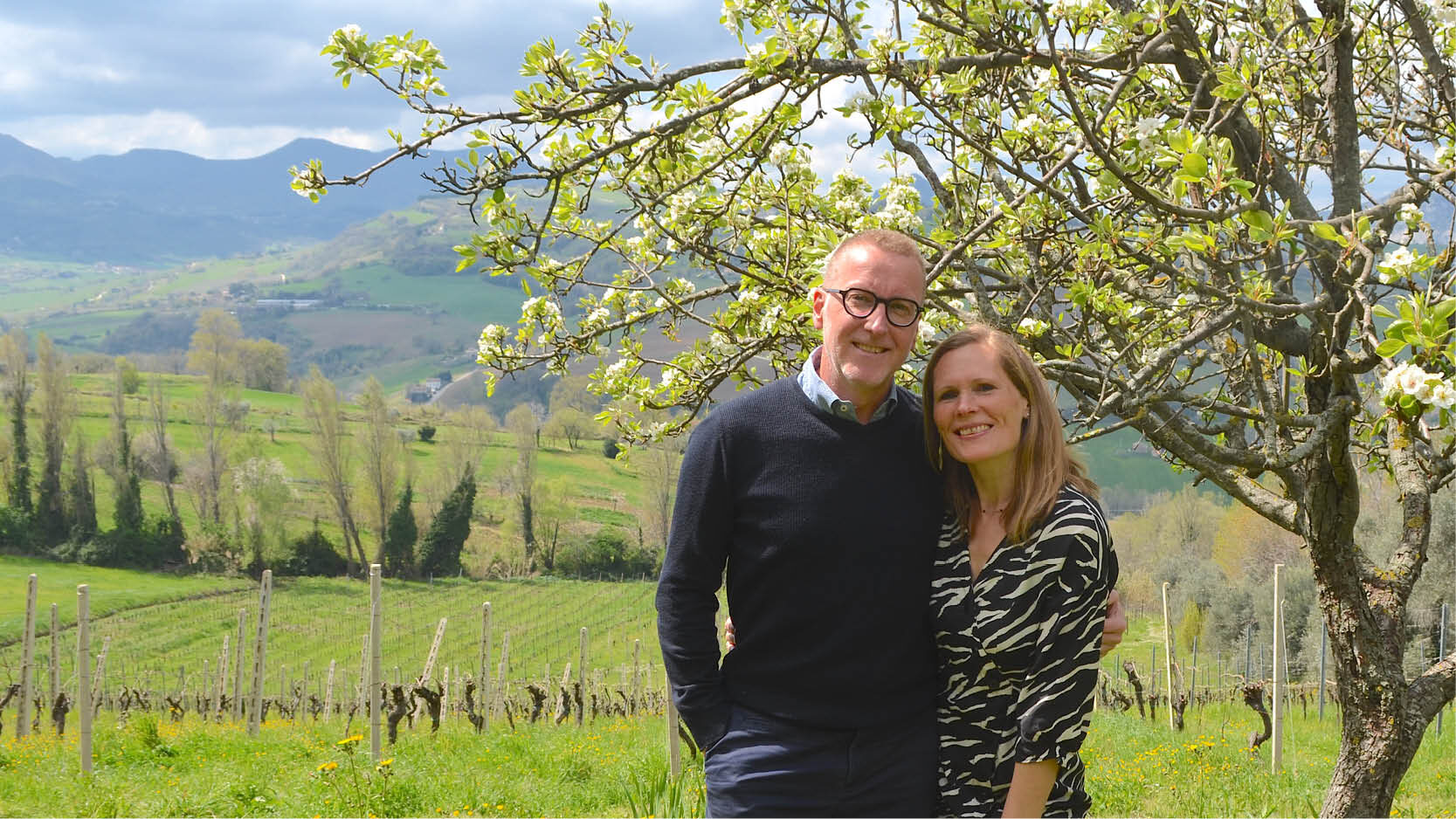 We had a wonderful time at Villa Verdicchio. Super reception by Roberto and Lena, the Italian Belgians. They transformed the villa into a palace. Nice and clean rooms, delicious breakfast, idyllic garden with fantastic views. Visited several wineries on Roberto and Lena's recommendation. I can assure you; A day in cupramontana starts wonderfully after a wine tasting in the morning. Lots of opportunities to visit the ancient nearby towns. If you have the opportunity to visit the Marche, this is an ideal place in terms of location. We will definitely come back again!
DISCOVER, RELAX AND ENJOY
"We were pleasantly surprised by the variety of wineries in Le Marche. From simple wineries to wineries in a beautiful designer setting. Tasted delicious wine everywhere!"
OUR TIPS FOR YOUR FINEST WINE TOUR IN ITALY
Our tips for interesting wineries near Cupramontana